About Us
WELCOME TO MAGCO CRANES
EOT crane manufacturer and exporter
Magco Cranes is a leading manufacturer since last 18 years in lifting solutions such as cane unloader, electrical & mechanical parts with a track record in pioneering, leading and shaping the developments in the lifting industry.
Magco Controls was founded by late Mr. Chandru T Shahani in the Year 1971, thereafter the company had dis continued operation in 1986. With the earlier business model, Mr Vinod Shahani commenced operations in the year 1996, with the brand name MAGCO CRANES as a Proprietorship.
We followed the natural growth pattern because of commitment to Quality, Delivery and Competitive Price and therefore, has become a reputed and leading supplier of Material Handling Equipments In india & Abroad.
OUR SUPPLYAREA
Crane Manufacturers
We supply our products regularly to the reputed concerns like Walchandnagar Industries, Heavy Machines, Building Plant, Kay Iron Work's, Buck O Wolf, Cranes & Structural, Deccan Mechanical, Triveni Engineering, Khandelwal Udyog, Garlick Engineering & various Sugar Factories, primary metals, mining, ports, and shipyards to power generation, waste management, plastics, defence, automotive manufacturing, and numerous other applications.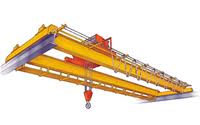 Besides this we regularly supply to Ordance Factory, Bhel, Sardar Sarvour Cannel, Narmada Dam & various other Cannels & Dam's & Crane Manufacturers.
We have exported to BANGLADESH, DOHA QATAR AIR FORCE also.
OUR ACHIEVEMENTS
Crane Control equipment manufacturer and exporter
In 1984 the Management of M/s Magco Cranes is awarded a government approved gold medal referring the Transworld Tradefare Selection Award in appreciation and recognition of our outstanding performance in the quality control products.
Over the period, the Company added, diversified and consolidated its operations to align with the business and market requirement and has remained at par with the business trends.
What we do
Manufacturer and exporter of crane control equipments
Manufacturing of Crane Control Equipments, Thruster Brake, Rotary Limit Switch, Master Controller, S.S Punch Grid Resistance Box, Lever Limit Switch, Counter Weight Limit Swich, EOT Crane Control Equipments.

we are a reputed manufacturer and supplier of diverse material handling equipments including Control Panels, Drive Panels with VVVF drive, Master Controllers, Limit Switches, Thruster Brakes, Gear Boxes (Helical), Brake Drums, Electromagnetic Clutches, Resistance Boxes, etc..