Mechanical De Hooking System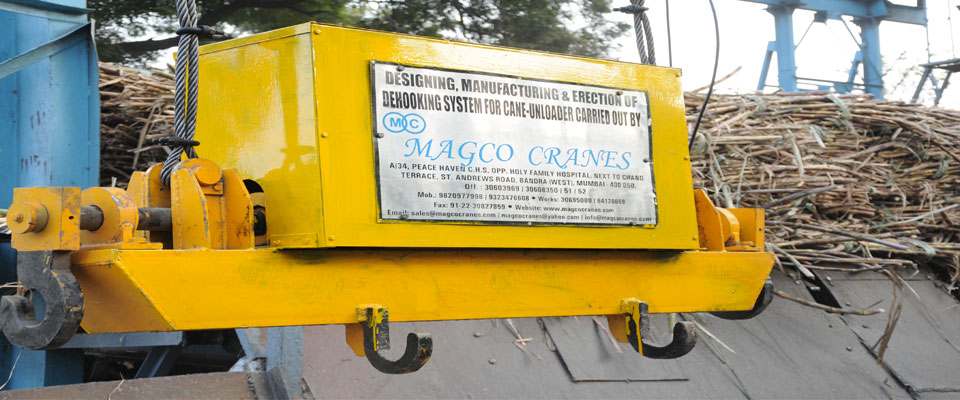 Introduction
The mechanical de hooking is a zero maintenance system as it is well design with all the high capacity components which has a long live. This mechanical de hooking system is design in such way that it requires only six second to de hook the sugarcane from the de hooking system directly in the cane carrier as this system therefore the electricity required is only for a period of six second for unloading propose that to with of the 2 HP or 4 HP motors instead of 25 HP or 15 HP.
THE BIGGEST BENEFITS OF THIS SYSTEM ARE AS UNDER:
1) YOU CAN SAVE UPTO 14 ELECTRICITY UNITS PER HOUR AS THE MOTOR CAPACITY IS BEEN REDUCED IN THIS SYSTEM BUT IT'S WORKING CAPACITY IS THE SAME AS PER YOUR EXISTING CANE UN- LOADERS.
2) YOU CAN SAVE AT LEAST 40 SECONDS OF TIMING ON EACH LOAD AS WITHOUT RESTING THE SUGAR CANE COMPLETELY ON THE FEEDER TABLE YOU CAN DE HOOK THE SUGAR CANE FROM IT EASILY WHICH HELPS YOU TO INCREASE THE CRUSHING CAPACITY.
This system is been Designed in keeping the view of the benefits to the sugar industry. This system is value for money as you get the pay back in 1 season itself by saving the electricity, timing & wear n tear of your heavy machineries.
WE & SOME SUGAR FACTORIES HAVE FOUND THIS MECHANICAL DE HOOKING SYSTEM MUCH BETTER THAN THE HYDRAULIC DE HOOKING SYSTEM.